Andrew Erdos / Yasue Maetake
Amorphous Terrain
April 6 -May 13, 2018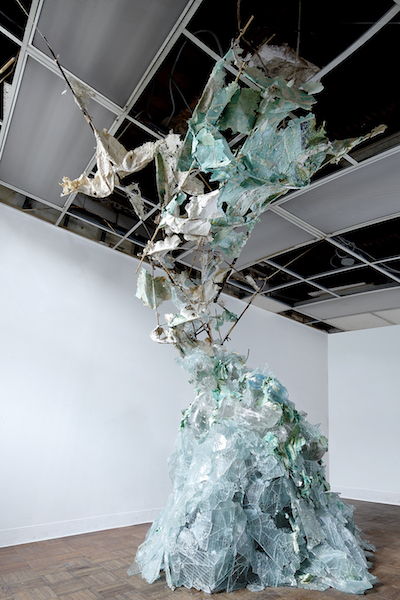 A crystalline structure rises from the floor of a small anonymous Manhattan office. The base of the clear, conical mountain is sharp and glistening. As it gradually tapers to its peak a transformation takes place. The density changes and the energy escapes from the mountains core, rising through the ceiling.

Amorphous Terrain by Andrew Erdosand Yasue Maetake is a new installation built specifically for mhPROJECTnyc. The sculpture is a constant observer of the cycles of materials and energy in transitory states. The instillation is created from almost unchanged natural objects like cane and jute rope, to meticulously crafted objects like blown glass and handmade paper, to discarded industrial materials like steel rebar and broken factory windows.

The artists attempt the artificial re-enactment of each material's melting point by treating broken safety glass and corroded pulp as directly malleable. Personifying and anthropomorsizing the material from the center of a nondescript Manhattan office, the installation asks questions of time and the power shift between material and artist existing as a nonlinear relationship.

Andrew Erdos'
sculptures, videos, photography, and mixed-media installations explore themes related to time, light, and the sublime. His work investigates the complex relationship between humankind and its environment, and resonates with contemporary reflections led by philosophers and scientists to determine a new ontology in the age of the Anthropocene. Andrew Erdos, (b. 1985) graduated with a BFA from Alfred University. He has been the subject of solo exhibitions at Claire Oliver Gallery in New York, with Invaluable (2015) and Guaranteed Impermanence (2013). The youngest recipient of the Rakow Commission of the Corning Museum of Glass, his work has been exhibited worldwide and throughout the United States. Notable group exhibitions include Piece by Piece at the Kemper Art Museum, Kansas City (2015); Glass Today: 21st Century Innovations at the New Britain Museum of American Art (2014); Facets of Modern and Contemporary Glass at the Knoxville Museum of Art (2014); Color Ignited: Glass 1962-2012 at the Toledo Museum of Art (2012); Cyberfest at The State Hermitage Museum in St Petersburg (2009), Art Parade at Deitch Projects in New York (2008), and Insatiable Streams at Beijing BS1 Contemporary Art Center in Beijing (2007). Erdos' work can be found in the permanent collections of the New Britain Museum of American Art; the Toledo Museum of Art; the Knoxville Museum of Art; the Corning Museum of Glass; the 21c Museum in Durham, and the Chazen Museum of Art in Madison. Andrew Erdos lives and works in New York City.
https://www.andrewerdos.com
Yasue Maetake
's practice spans sculpture, fiber, collage, and video. She creates the forms that suggest life-like hybrids of form that remind us of manmade construction juxtaposed alongside raw elements of nature. Maetake's work has been exhibited extensively in the US and abroad at venues including Galerie Fons Welters, Amsterdam, Netherlands; Harris Lieberman, New York, ; Espacio 1414, The Berezdivin Collection, San Juan, Puerto Rico; Queens Art Museum, Queens, NY; and Fredric Snitzer, Miami, FL. Maetake has been a resident artist in the studio of El Anatsui in Ghana; and has received awards and fellowships including from the Agency for Japanese Cultural Affairs. In 2017, Maetake presented her solo exhibition at
THE CHIMNEY
, Brooklyn. Maetake has been involved in Posthuman Aesthetic research and will give a presentation at World Congress of Philopsophy in Beijing in 2018. She earned her MFA from Columbia University, New York, NY; and currently lives and works in Queens, NY and is originally from Tokyo, Japan.
http://www.yasuemaetake.com