mhRESIDENCY #10_fall 2022


MAI ENDO x YITIAN YAN
This City Breathe in the Interior of Buildings
a site-specific installation and performance
NOVEMBER 27 I 3PM

PERFORMANCE I DAY
Duration I 45min.


Special thanks to
Yu Yamamoto
The collaborative project of Mai Endo and Yitian Yan began with "Night" performance and will conclude with "Day". In the "Day" performance, Tokyo-based playwright and photographer Arata Mino will join the collaboration, explore to materialize smell, breath, sounds and urban memories.
In the room, breath is investigated as a radical form of intimacy. Besides, we regard breath as a collective work-in-progress situated in the process of urban metabolism, and we attempt to breathe together as a spatial practice. What is constructed and what is deconstructed in this fluid and amorphous process of absorption and excretion?
Arata Mino
was born in Fukuoka prefecture in 1987. He is an multidisciplinary artist, especially working on photography and playwright. He thinks of photography through theatrical methods to create and present pieces on the theme of visualizing the modern premonition of fear. His work is to extract and create a story of horror as social backgrounds by capturing the small movement of body recorded on photography and video. In 2017, he founded the theatre company Nikasan and completed a doctoral course in Tokyo University of Arts. Until now, he has held numerous contemporary art exhibitions and produced performing
arts works. Participant in the Public Program of FESTIVAL/TOKYO 2012. Multiple award recipient for photography, performing arts, and contemporary art in Japan. He is currently in New York City as a recipient of Rockefeller fellowship (Asian Cultural Council). www.aratamino.com/
SUNDAY, NOVEMBER 20
I Sound Performance I
SENDERS and RECEIVER
Musicians and artists will present sound works activating an
d having dialogue with "
The City Breathes in the Interior of Buildings
" installation by Mai Endo and Yitian Yan. The
collaborative site-specific installation consists of speaker objects embedded in the space, sounds from urban natural environments, living and dried mugwort plants, and a refunctioned copper piping system.
Yitian Yan
I
Suspended Acceleration
As a part of the installation, the speaker sculpture "Suspended Acceleration" will be activated with sounds collected from the expansion joints and the steel structure of Williamsburg bridge.
Chi Hsun Wang
I
Ripples
Chi Hsun Wang is a driver and a sound artist/guitarist based in NYC. Wang seeks into how sounds can appeal to our involuntary moves, and resulting in chord-based compositions in sound atmospheres.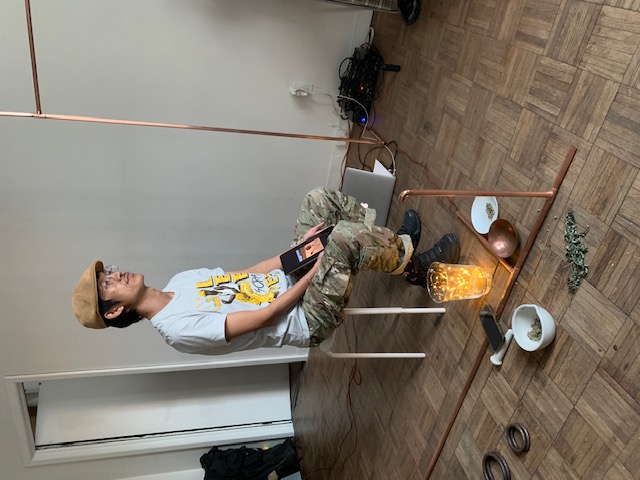 Xiaoyu He
I
Pray for the China-Future-DanceMusic
Xiaoyu He is the organizer of noise/improv events in Beijing, he started his solo project in 2021. He's going to present a new collective sound work "Pray for the China-Future-DanceMusic"
Mai Endo
I
Drawings
SUNDAY, NOVEMBER 13
I Performance I
NIGHT
In the performance, Mai and Yitian will attempt to materialize breath and explore the ambience of materiality, through light, shadow, smell, air movement, vibration, resonance, sound, and urban memories.
NIGHT
marks the beginning of Mai and Yitian's collaboration. After
NIGT
breaks, the collaboration will be continued as
The City Breathes in the Interior of Buildings,
an installation in the daylight.
This City Breathe in the Interior of Buildings
As facial masks and travel bans become another physical obstacle in between breathes, Endo and Yan would like to reconsider breathing as a radical form of self and mutual care. When breathes gather, they create a space. It is a space dedicated to breathing together, where the spirituality of technology reflects our minds and bodies. It is a space dedicated to meditation, where lives meet dreams. It is also a space dedicated to exhibiting, where art practice is discussed as intervals of filling and emptying.
Mai Endo
is an actor and artist. She received her Ph.D. in Fine Art (mural painting) from Tokyo University of the Arts in 2021. In her artistic practice, she uses her own body in playful ways through chatting, DIY and performance. Endo's practice is based on queer feminist theory and her research on various materials including historical folktales, teen-comics and Fan-Fiction, and the marriage system and the laws that regulate freedom of expression.
Endo's solo exhibitions include "Harboring a Burning Passion" at Satellite Gallery SA-KURA at Aichi University of the Arts, Aichi, Japan (2021), and theater performances include "I Am Not a Feminist!" at Festival/Tokyo 17, Tokyo, Japan (2017). Selected group shows include "La clausura del cuerpo" at Las Cigarreras Centro Cultural, Alicante, Spain(2022), "Feminisms" at 21st Century Museum of Contemporary Art, Kanazawa (2021). In 2018, she launched the queer feminist art zine "Multiple Spirits" with critic/curator Mika Maruyama. They have organized the exhibition "When It Waxes and Wanes" at Vereinigung bildender Künstlerinnen Österreichs (VBKÖ), Vienna (2019). Endo received her Ph.D. in Fine Art (mural painting) from Tokyo University of the Arts in 2021. Based in Tokyo, she currently stays in New York, US as a researcher under the overseas study program for upcoming artists of the Agency for Cultural Affairs.
https://maiendo.net/
https://www.instagram.com/iewopua/?hl=en
Yitian Yan
's art practice picks up the subtle oscillations between materiality and ephemerality in daily life through the medium of performance. Often amplifying durational, mundane gestures, these performance works approach to discuss forms of belonging and co-existence. At the same time, she explores the extensive spatial structures of such happenings through the medium of installation, abstracting concepts into stability and fluidity, tension and gravity in the built environment. Yitian's practice reflects on the conceptual art tradition and responds to the uncertainties in the current global environment.
Yitian's works have been subject to solo exhibitions at the Clemente Soto Vélez Cultural Center, New York, and Shasha Gallery, Shanghai. Other places her works have been exhibited and performed include Bungee Space, New York, Power Station of Art, Shanghai, Takahashi Shipyard Building, Kagawa, Photo LA, and the Art Institute of Chicago. Yitian received an MFA degree at the School of Art Institute of Chicago in 2018. She grew up in Shenzhen, China, currently lives and works in New York, US.