mhRESIDENCY #09_summer 2022


TAISUKE YAMADA
brokenworz
Curated by JUN MABUCHI
AUGUST 8 - SEPTEMBER 30, 2022
FRIDAY, SEPTEMBER 30, 7PM-9PM
CLOSING RECEPTION
brokenworz
LIVE PERFORMANCE
Nava Dunkelman + Taisuke Yamada
To close out the exhibition,
brokenworz
, Taisuke Yamada will collaborate with percussionist, Nava Dunkelman for the live performance. This is the first time Yamada will perform alongside a musician.
The performance starts at 7 pm.


The space is limited, please RSVP to secure your place for the performance.


Cloth Specification: To enhance the performance, we encourage you to dress in white for the event.

Nava Dunkelman
is a percussionist and improviser based in Brooklyn, NY. Her musical approach is innovative and dynamic, combining virtuosity and intuition. Meticulous in an intrinsic way, she uses her distinctive sound pallet to explore and give life to a vast spectrum of musical possibilities. Nava's current projects are electro-percussion experimental noise duo IMA with Amma Ateria and percussion duo NOMON with her sister Shayna Dunkelman.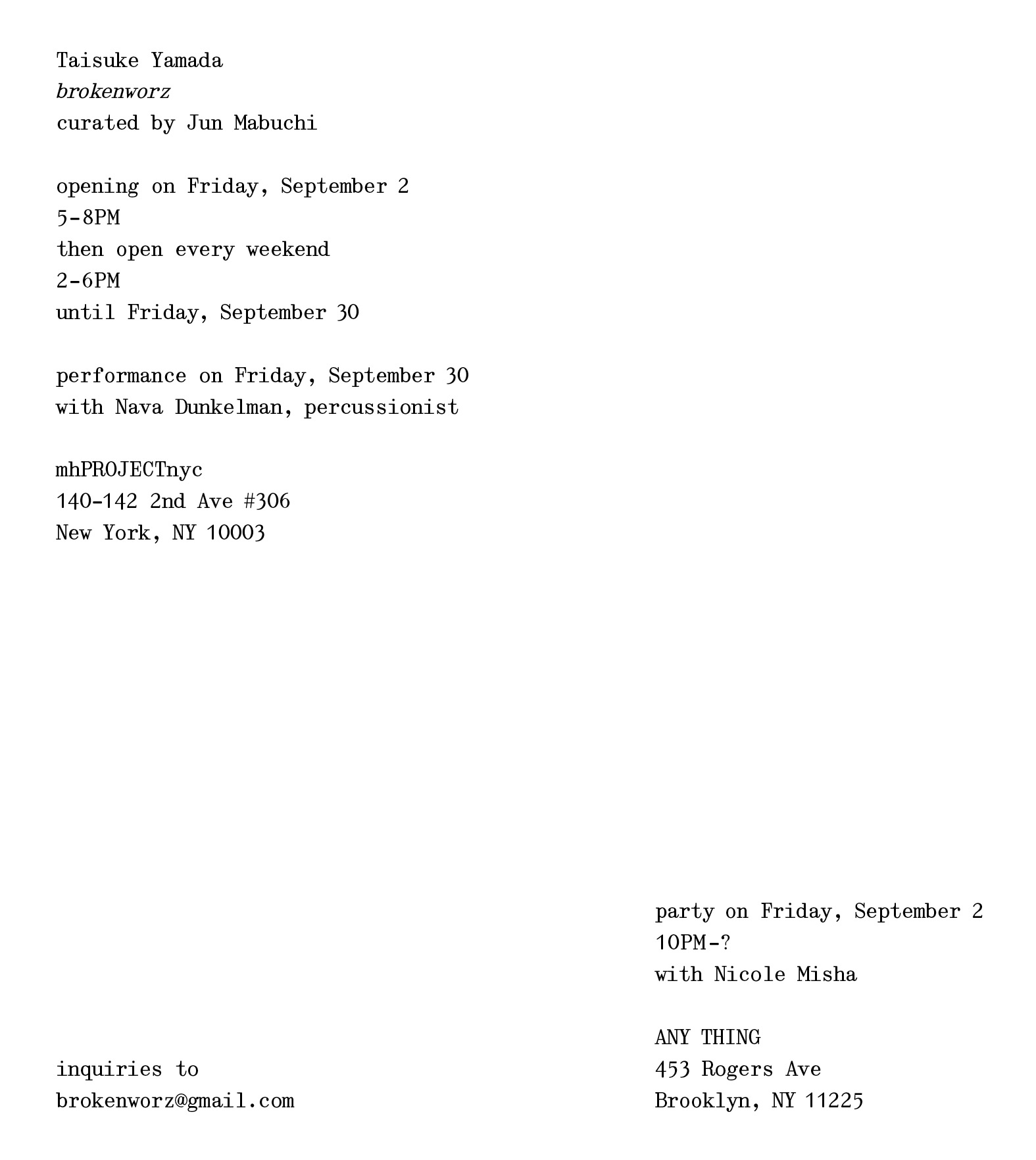 The world we live in now is such a strange place. The technological advances made it possible for us to connect with each other more efficiently, the knowledge is accessible just
a few clicks away, and new and exciting projects are launching to push our imaginations further. However, at times I find the culture that we've created to be troublesome. We've put so much effort into living and connecting with each other virtually. We are constantly on our devices, consuming new content personalized just for our tastes. Oversimplified and digestible contents are overflowing on the internet. In this fast-paced society, I struggle to make a meaningful connection with people. It almost feels like the world is leaving behind me.
Strangely, I found myself surrendered in comfort when I experienced Yamada's brokenworz (2022). It reminded me of a dream, with images and the audio feel familiar, but difficult to identify. The artist's work is a process-oriented sound and visual installation that blends together sound recordings and digital photographs that were collected during the month of August. Both recordings and images depict snippets of mundane lives from different places and time; the sound of cars and trains passing by, cicadas screaming as loud as they can be, a fan blasting the room, stillness in the home, and parents talking to their kids, etc.
Yamada's work is inherently collaborative. The artist reached out to his community in order to collect materials for the installation with a simple direction, allowing them to share moments of their lives that may be uninteresting to them.
-Jun Mabuchi
Taisuke Yamada
(b.1992 Kanagawa, Japan) lives and works in Brooklyn, NY. Due to ineffective communication between the artist and the curator, we are unable to provide a biography of the artist.
Jun Mabuchi
(b.1993 Aichi, Japan) is a Brooklyn-based cultural producer and potter. He joined the artist collective, For Freedoms in 2018. Since then he has co-produced nation-wide public art campaigns and oversaw exhibitions.